Braised Lamb Shanks with Piquillo Peppers,
Roasted Squash & Capers
paired with Mira Cabernet Sauvignon Schweizer Vineyard 2015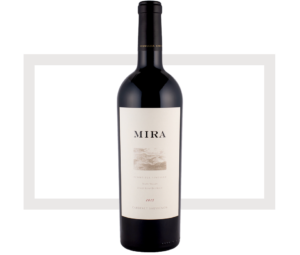 Fall really begs for a return to rich braised dishes and the seasonal flavor of roasted squash. This dish, perfect for cooler weather, adds a sweet note with the addition of the traditional Spanish piquillo peppers. Typically available roasted and jarred, if you can't find them you can always substitute regular roasted red bell peppers.
Serves 6
6 lamb shanks
1 onion, sliced
4 cloves garlic, sliced
1 jar piquillo peppers, julienned
1 butternut squash
8 cups chicken stock
½ bottle day old red wine
½ cup rinsed capers
Salt and pepper to taste
Olive oil
FOR THE LAMB: Season all of the lamb shanks with salt and pepper. In a braising pan, sear all of the lamb shanks on high heat, making sure that you are getting some great, dark brown color. Remove the lamb shanks from the braising pan and add the onions. Sauté for ten minutes and then add the sliced garlic. Cook for five more minutes. Add the ½ bottle of red wine to deglaze the braising pan and reduce by half. Add the chicken stock and bring it up to a boil. Once the braising liquid has been brought up to a boil, add the lamb shanks back to the pan and cover tightly with a lid or foil. Transfer the pan from the stove and to an oven set to 300°F. After braising the shanks for 1 hour and 45 minutes, use a paring knife to see if the meat is tender. If it is not tender, recover the pan and place it back into the oven for another 30 minutes. Remove from the oven and rest for 1 hour with the lid on.
FOR THE SQUASH: Peel and dice the butternut squash and place in a bowl. Season with salt, pepper, and olive oil. Spread the squash evenly on a parchment-lined sheet tray and roast in the oven at 500°F for 15 minutes. Remove from the oven and allow to cool.
TO FINISH: Add the poquillo pepper, capers and roasted squash to the rested lamb shanks. Serve the shanks family style or plate individually with a serving of the reduced braising liquid and vegetables.