If one of your New Year's resolutions is to try and cut back on meat, there are still many delicious recipes that pair perfectly with your favorite bold red wines.
In this dish wonderfully versatile cauliflower takes center stage and delivers rich caramelized edges accented by crunchy seasoned breadcrumbs with a creamy interior. Paired with a few other stars of the winter Farmer's Market you get a wonderful taste of the season that's perfect for a Meatless Monday or any night of the week.
Consider it a fresh take on the classic beef and Cabernet Sauvignon pairing, one that celebrates winter flavors while offering enough richness to balance a younger wine like the Mira Cabernet Sauvignon Yountville 2016.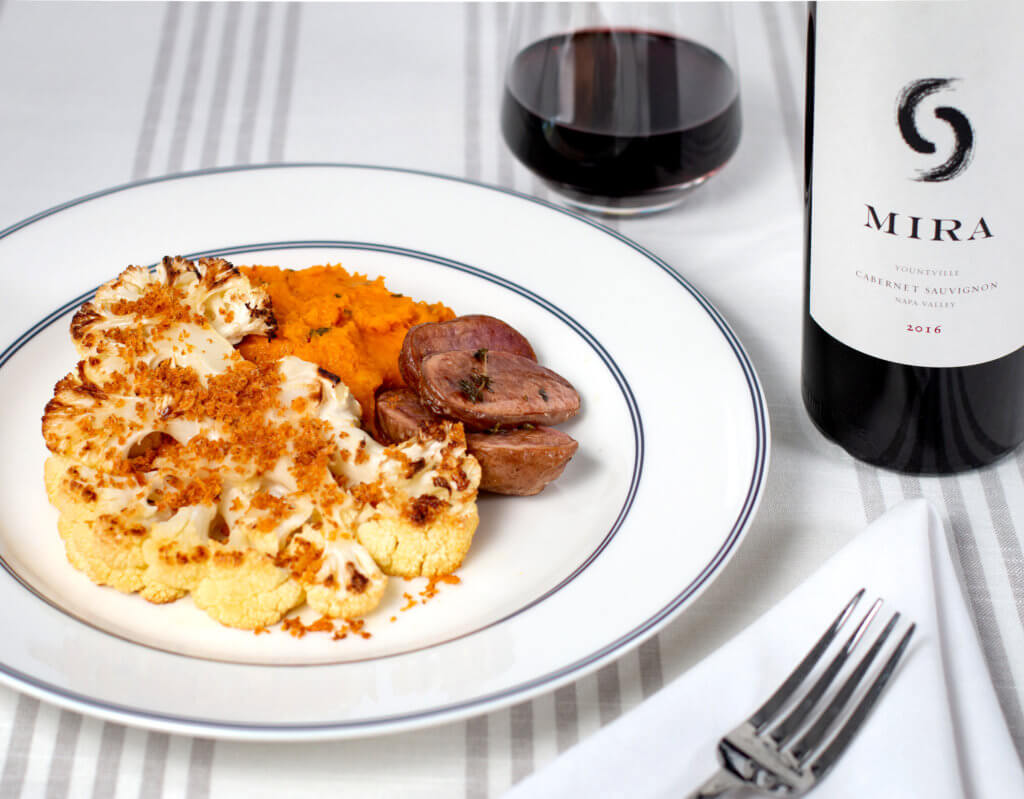 Roasted Cauliflower "Steak" with Mashed Butternut Squash, Roasted Potatoes, and Pimentón Breadcrumbs
paired with Mira Yountville Cabernet Sauvignon 2016
Serves 2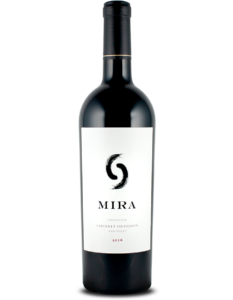 2 heads cauliflower
1 pound fingerling potatoes
1 medium butternut squash
1/4 bunch thyme
1/4 bunch sage
2 tablespoons butter
1/2 cup panko breadcrumbs
1/4 teaspoon pimentón
Extra-virgin olive oil, as needed
Salt and pepper, to taste
Wash and trim the heads of cauliflower and then cut a thick slice from the center of each, handling them carefully to keep the florets together. With a paring knife trim the stem of each steak and remove any thicker portions or remaining leaves. Preheat the oven to 425° F. Brush each steak generously with extra-virgin olive oil, season with salt, and set on a parchment-lined sheet tray. For the potatoes, slice any larger potatoes in half then toss with olive oil and salt. Spread in an even layer on a parchment-lined sheet tray and sprinkle rosemary springs over top. Peel and dice the butternut squash and chop the sage leaves. Toss with olive oil and salt, then spread evenly on a parchment-lined sheet tray.
Transfer all trays to the oven, the butternut squash on the bottom rack, cauliflower in the center, and potatoes on the top. Roast the cauliflower steaks until browned and tender, approximately 20 minutes, carefully flipping the steaks halfway through. Roast the butternut squash for about the same amount of time, until lightly browned and tender, stirring halfway through. Roast the potatoes until tender, depending on their size they may be the first thing done.
While everything is in the over, heat 2 tablespoons of extra-virgin olive oil in a small sauté pan over medium heat. Sit in the pimentón and cook until fragrant, then add the bread and cook until golden brown. Using a slotted spoon transfer to a paper towel lined plate and set aside.
When the butternut squash is done transfer to a bowl, add the butter, and mash with a fork, stirring vigorously if you prefer a smoother texture. Portion potatoes, butternut squash, and a cauliflower steak onto each plate, and top the steak with a generous sprinkle of breadcrumbs.
Note: This recipe will yield a good supply of leftover cauliflower florets. Toss in olive oil and roast for a topping on pizzas or pasta, simmer in stock and purée for a great seasonal soup, or enjoy them raw with your favorite dressing as a dip.