Enjoy these seasonal recipes to pair with your Society 610 fall wines and raise a glass to great food, great company, and great wine as you savor the season.
Seared Duck Breast
with Parsnip Purée, Brussels Sprouts, and Smoked Maple Syrup
paired with Mira Cabernet Sauvignon Stags Leap District 2014
Serves 4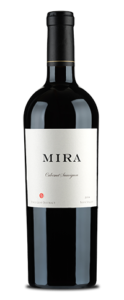 These classic flavors of fall pair brilliantly with the layered nuance of the Mira Cabernet Sauvignon Stags Leap District 2014. Once a somewhat exotic ingredient, smoked maple syrup can now be found in many gourmet markets, as more and more producers have begun to produce their own versions. It makes a wonderful addition to your pantry, particularly in the colder seasons, as bright and complex way to finish many dishes.
4 5-ounce duck breasts
2 ounces smoked maple syrup
Kosher salt
Using a sharp knife, lightly score a crosshatch pattern onto the skin side of the duck breast. Season the breasts with salt and place fat side down into a large, cold sauté pan. Place the pan over low heat until the fat begins to render from the breasts and bubble in the pan. Continue to cook over low to medium heat, adjusting as necessary, until most of the fat has rendered out and the skin is a golden brown. Flip the breasts and increase the heat to medium. Cook for another 1-2 minutes for medium rare, or until a thermometer inserted into the thickest part of the breast registers 130 F. Remove from the pan, tent with aluminum foil and allow to rest before slicing. When ready to serve, slice the breast into approximately 1/4-inch slices across the grain and transfer to the plate, drizzling with a bit of smoked maple syrup.
Brussels Sprouts
1 pound brussels sprouts
Olive oil
Kosher salt
Bring a large pot of water to a boil then season generously with salt and set up a large bowl of ice water. Trim the ends of the brussels sprouts and separate the leaves. Blanch the brussels sprouts leaves in the boiling water for 1 minute, then use a slotted spoon or spider to transfer the leaves to the bowl of ice water. When the leaves are cool, drain them from the water and transfer to paper towels, blotting lightly to dry. Heat a large sauté pan over medium-high heat and then add the olive oil. Add the leaves, working in batches if necessary to avoid overcrowding the pan, and cook until lightly browned, approximately 5 minutes. Season with salt to taste and keep warm until ready to serve.
Parsnip Purée
1/2 pound parsnips
1 garlic clove
1/2 cup heavy cream
1 tablespoon unsalted butter
Kosher salt
Peel and thinly slice the parsnips and garlic. In a heavy bottomed saucepan, combine the cream, garlic, parsnips, and butter and bring to a simmer. Cover and cook until the parsnips are very soft, approximately 10 to 15 minutes. Remove the cover and allow the liquid to reduce by about half. Set aside to cool slightly, then puree in a blender until smooth.
---
Braised Beef Short Ribs
with Roasted Beet Purée and Cocoa Reduction
paired with Mira Merlot Hyde Vineyard 2014
Serves 4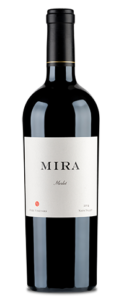 In pairing wines with food you should always be on the lookout for opportunities to bring together complimentary qualities, as you may find that in these instances 1+1=3. In this case we've chosen to highlight the notes of earth and dark chocolate found in the Mira Merlot Hyde Vineyard 2014 with a unique reduction sauce that receives a boost from the addition of cocoa powder. Taken on their own both wine and sauce offer their own subtle hints of the aroma of dark chocolate, but together create a new expression of flavor, bringing together the wine, meat, and sauce into a sublime experience.
4 pounds bone-in beef short ribs
2 cups dry red wine
4 cups beef stock
3 medium onions, diced
3 carrots, diced
2 celery stalks, diced
3 tablespoons all-purpose flour
1 tablespoon tomato paste
8 sprigs thyme
2 bay leaves
1 head of garlic, halved crosswise
Grape seed oil
Preheat oven to 350° and pat short ribs dry. In a large Dutch oven, heat about 1 tablespoon of grape seed oil over medium-high heat. Working in batches to avoid crowding the pan, brown the short ribs on all sides, then transfer to a plate. Pour off all but approximately 2 tablespoons of the accumulated fat then add the onions, carrots, and celery. Cook until they are soft and browned, about five minutes, using their liquid to scrape up anything adhering to the bottom of the Dutch oven. Lower heat to medium, then add tomato paste and flour, stirring constantly until it turns a deep shade of red. Return the short ribs to the Dutch oven, pouring in any accumulated juices from the plate, along with the wine. Bring to a simmer and reduce by half, then add the beef stock, thyme, bay leaves, and garlic and return to a simmer. Cover tightly and transfer to the oven. Cook until the short ribs are tender, approximately 2 to 2 1/2 hours. When the ribs are tender, remove two cups of the cooking liquid then set the Dutch oven aside to keep warm while you complete the other components. When ready to serve, remove the short ribs from the remaining cooking liquid with a slotted spoon and serve on top of the beet purée with the cocoa reduction spooned over top.
Cocoa Reduction
1 cup red wine
2 cups reserved braising liquid
2 tablespoons tomato paste
1/2 cup shallots, finely diced
1 carrot, finely diced
1 celery stalk, finely diced
1 clove garlic, finely diced
1 bay leaf
1 tablespoon unsweetened cocoa powder
Olive oil
Kosher salt
Heat a half tablespoon of olive oil in a large heavy-bottomed saucepan over medium heat. Add the shallots, carrot, and celery and cook until softened and aromatic, stirring occasionally. Add the garlic and tomato paste and cook, stirring often, until the tomato paste begins to stick to the bottom of the pan. Add the wine and beef broth, using a spoon to scrape up anything adhered to the bottom of the pan. Bring the sauce to a simmer and then add the bay leaf. Simmer until reduced by approximately three-quarters, or until the sauce thickens and evenly coats the back of a spoon. Pass through a fine strainer without pushing any of the solids through, then stir in the cocoa powder and season to taste with salt.
Roasted Beet Purée
12 ounces medium red beets
4 sprigs fresh thyme
2 garlic cloves
2 tablespoons sherry wine vinegar
1 tablespoon honey
Olive oil
Kosher salt
Preheat oven to 400°F and clean the beets thoroughly while it heats. Line a deep baking dish with aluminum foil and add the beets, garlic, and thyme. Drizzle with olive oil and sprinkle with salt, tossing to coat evenly. Add about a quarter cup of water to the pan, then cover with aluminum foil, pinching the edges to seal as best you can. Cook the beets for 45 minutes, then begin checking them every 10 minutes by inserting a pairing knife into a beet. It should slide in easily. Adjust the cooking time up or down depending on the size of your beets. When cooked through, set aside to cool slightly, uncovered. Using paper towels, rub the skins off of the beets. Cut the beets into chunks and transfer to a blender along with the 3 tablespoons of olive oil, the sherry wine vinegar, and honey. Purée until smooth, then adjust seasoning with salt.
---
Sautéed Georgia White Shrimp
with Pistachio Pesto and Succotash
paired with Mira Chardonnay Napa Valley 2018
Serves 4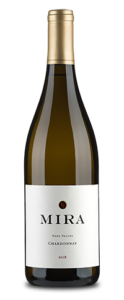 We love to bring together southern traditions with California ingredients. In this recipe we've substituted fresh cranberry beans, a fall season favorite in northern California, for the more traditional lima beans in our succotash, then finished the dish of Georgia shrimp with a very Californian pistachio pesto. Paired with the Mira Chardonnay Napa Valley 2018 it's a dish that bridges the seasons, with a hint of fall but also the last of summer's produce bounty.
1 1/2 pound Georgia White Shrimp, shell on
Olive oil
Kosher salt
There is both a spring (April-June) and a fall (September-December) season for Georgia White Shrimp, but if you don't have a reliable source for fresh shrimp you can find high quality frozen shrimp at most higher end grocery stores. Take the time to thaw them slowly, on ice, in the refrigerator to preserve the delicate flavor and texture. It's far less convenient to buy shell on shrimp and peel them yourself, but worth it for the flavor (and as a bonus you can save the shells for soup).
Heat a large sauté pan over medium heat and add about 1 tablespoon of olive oil. Add the shrimp, working in batches to avoid crowding, and cook until the shrimp turn opaque and are just cooked through. Set aside to keep warm if you must, but it is a better idea to simply cook the shrimp last and transfer them directly to plates of succotash, then drizzle with pesto.
Pistachio Pesto
6 ounces unsalted roasted pistachios
1 cup arugula leaves, packed
1 garlic clove, chopped
1/4 cup Pecorino cheese, grated
Extra-virgin olive oil
Kosher salt
In a food processor pulse the pistachios with a little olive oil until they form a rough paste. Add the arugula leaves, about a quarter cup at a time, and add more olive oil as needed to achieve a smooth texture. You may not need to use all the arugula. When close on consistency, add the garlic clove and cheese, then adjust seasoning with salt and make any further adjustments with olive oil.
Succotash
2 strips bacon, diced
1 small onion, diced
1 red bell pepper, diced
6 ounces okra, cut into rounds
2 garlic cloves, minced
3/4 pounds yellow summer squash
1/2 cup (1 stick) unsalted butter
8 ounces cherry tomatoes, halved or quartered
2 cups corn kernels (approximately 4 ears)
1 pound fresh cranberry beans, cooked
1/2 cup chopped fresh basil leaves
Place the bacon and about 2 tablespoons of water into a large heavy bottomed sauté pan, then set over medium heat. As the pan heats the bacon will render out its fat, the water helps keep the process gradual. When the bacon is crisp, remove it from the pan with a slotted spoon and set aside. Add the onion, bell pepper, and okra to the pan and cook until tender and lightly browned, about 10 minutes. Add the garlic and squash and cook for another five minutes. Finally, add the butter, cherry tomatoes, corn, cranberry beans, and a 1/2 teaspoon of salt. Reduce the heat to low and simmer, uncovered, for about 20 minutes, tasting to adjust the seasoning and stirring occasionally. When all the vegetables are tender and the flavor is where you want it, remove the pan from the heat and stir in the basil. Let the succotash sit a few minutes so that the basil flavor can really bloom before transferring to plates.