On May 24, 2016, Mira Winery marked the 40th anniversary of the legendary Judgment of Paris at our Tasting Room in Charleston, SC, with a blind tasting of eight highly rated top wines from Napa Valley and Bordeaux. Our Mira Cabernet Sauvignon Schweizer Vineyard received the following awards:
Announcing the Release of our Most Acclaimed Wine: "A Napa Valley Masterpiece"
To celebrate the one-year anniversary of The Judgment of Charleston and the high praise our exclusive Cabernet Sauvignon Schweizer 2012 received, today we announce the release of our Mira Cabernet Sauvignon Schweizer 2013.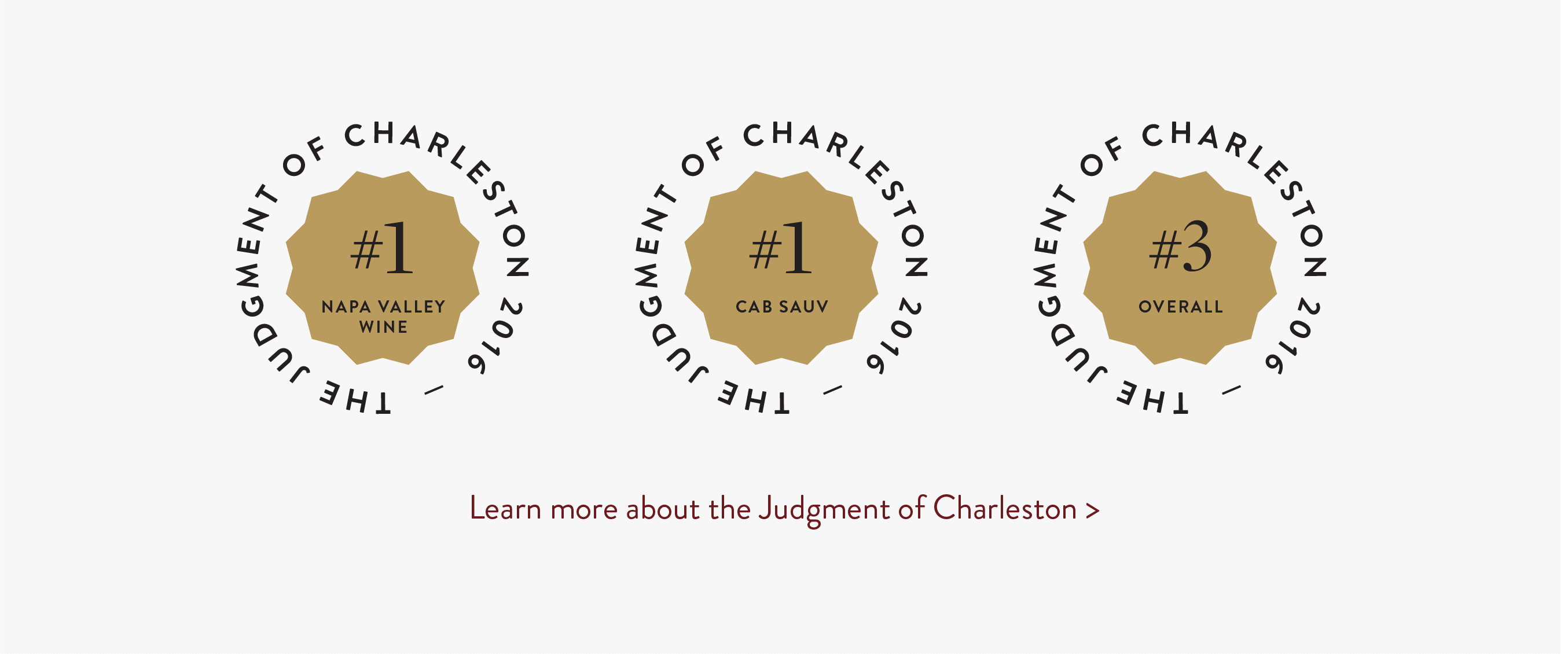 all French oak Taransaud cuves and aged in 100% new French oak barrels for 26 months.
The Story Behind the Wine
"Mira's…Cabernet Sauvignon actually marks the first time the Schweizer family has ever allowed a winery to designate Schweizer Vineyard label. They picked a good one to start. Against all odds, Mira Winery's entry in the blind tasting [at the Judgment of Charleston 2016] finished third, behind only the Pétrus 2012 (a Merlot) and the 100-point Château Haut-Brion." — The Daily Caller
The Schweizer Vineyard
Schweizer Vineyard, one of the oldest in Napa Valley, has been producing grapes for premier wines for over 100 years and owned by the Schweizer family since 1956. This small 40 acre vineyard in the heart of Stags Leap District, brings together some of the best soils and the perfect microclimate for the growing of Cabernet Sauvignon. Mira's Schweizer Cabernet perfectly reflects the unique characteristics of Stags Leap. We like to refer to it as the most famous vineyard you've never heard of, until now.
Own a Piece of History: Mira Cabernet Sauvignon Schweizer 2013
Described as "a Napa Valley masterpiece" and "a beautiful expression of the Stags Leap District," our Schweizer Vineyard Cabernet Sauvignon is the only wine ever to bear the prestigious Schweizer name. This "elegant, balanced, delicious" wine is the perfect addition — or start — to your wine collection, so claim your case before it's too late. Only 250 cases produced. View the infographic to learn more about the wine >
Or call 888-819-4668 / email molly@miranapa.com