Mira Cabernet Sauvignon
Schweizer Vineyard
The 2015 Vintage
 In March 2020 Mira Winery will release the fourth vintage of the acclaimed Mira Cabernet Sauvignon Schweizer Vineyard. Join our allocation list for your opportunity to purchase.
Vintage Summary
2015 is the vintage in which drought was on everyone's mind. Rainfall the previous vintages was minimal at best and 2015 was very dry for most of the State. However, thanks to some early season rains, Napa Valley received 75% of normal rainfall. Thanks to cool temperatures during the growing season the demand for water was kept to a minimum. These cool temperatures also contributed to uneven fruit set which resulted in much lower than average yields. Sugar accumulation was also slightly ahead of flavor development and so we harvested most varieties with more sugar than in the previous vintages. Small vintages typically result in more concentrated wines and 2015 is no exception.
Vineyard Notes
Schweizer Vineyard, one of the oldest in Napa Valley, has been producing grapes for premier wines for over 100 years and has been owned by the Schweizer family since 1956. This small 42-acre vineyard in the heart of Stags Leap District brings together some of the best soils and the perfect microclimate for growing Cabernet Sauvignon. The combination of excellent draining Perkins Gravelly Loam soil, the guarantee of great afternoon sun due to its position on the east side of the valley and ideal hot days and cool nights secure that Schweizer Vineyard is among the world's top locations to grow Cabernet Sauvignon.
Winemaking Notes
10-day cold maceration followed by 12 days of fermentation. Daily pumpovers during active fermentation at 90°F. 45 days total vat time in small French oak vats followed by malolactic fermentation in barrel. Aged for 30 months in 100% French oak barrels (100% new). Bottled non fined and non filtered.
Sensory Profile
First impressions on the nose tend towards anise and cedar, developing into a rich and multi-faceted pipe tobacco. This wine's signature abundance of fruit shines through as variety of dark berries with notes of cranberry that highlight the balancing acidity we've come to expect from this exceptional fruit. Fine grain tannins speak to the wine's extensive barrel program and persist through the lengthy return, suggesting the outstanding cellar potential of this classic Napa Valley Cabernet Sauvignon.
The Tasting
Mira Winemaker Gustavo A. Gonzalez sits down with Grapegrower Steve Schweizer to taste the next release of the Mira Cabernet Sauvignon Schweizer Vineyard.
The Heritage
Mira Winemaker Gustavo A. Gonzalez sits down with Grapegrower Steve Schweizer to discuss past vintages of the Mira Cabernet Sauvignon Schweizer Vineyard and the heritage that has led to such an extraordinary collection of wines.
---
The Judgement of Charleston
On May 24, 2016, Mira Winery marked the 40th anniversary of the legendary Judgment of Paris at our Tasting Room in Charleston, SC, with a blind tasting of eight highly rated top wines from Napa Valley and Bordeaux. The wines included two previously 100-point rated wines, according to Robert Parker of the Wine Advocate, from both Napa Valley and Bordeaux. Eleven judges from across the country gathered to compare these top wines and consider the stylistic evolution of the two regions since the Paris tasting.
"Mira's…Cabernet Sauvignon actually marks the first time the Schweizer family has ever allowed a winery to designate Schweizer Vineyard label. They picked a good one to start. Against all odds, Mira Winery's entry in the blind tasting [at the Judgment of Charleston 2016] finished third, behind only the Pétrus 2012 (a Merlot) and the 100-point Château Haut-Brion."
— THE DAILY CALLER
Mira's entry was its Cabernet Sauvignon Schweizer 2012, a limited selection, small production single varietal wine grown in one of the oldest and most exclusive vineyards in the Napa Valley. In the blind tasting with top Master Sommeliers, Advanced Sommeliers and wine experts from around the country, Mira Cabernet Sauvignon Schweizer Vineyard bested some of the greatest wines from the Napa Valley including Screaming Eagle, Schrader To Kalon and Shafer Hillside Select.
Own a Piece of History
ACQUIRE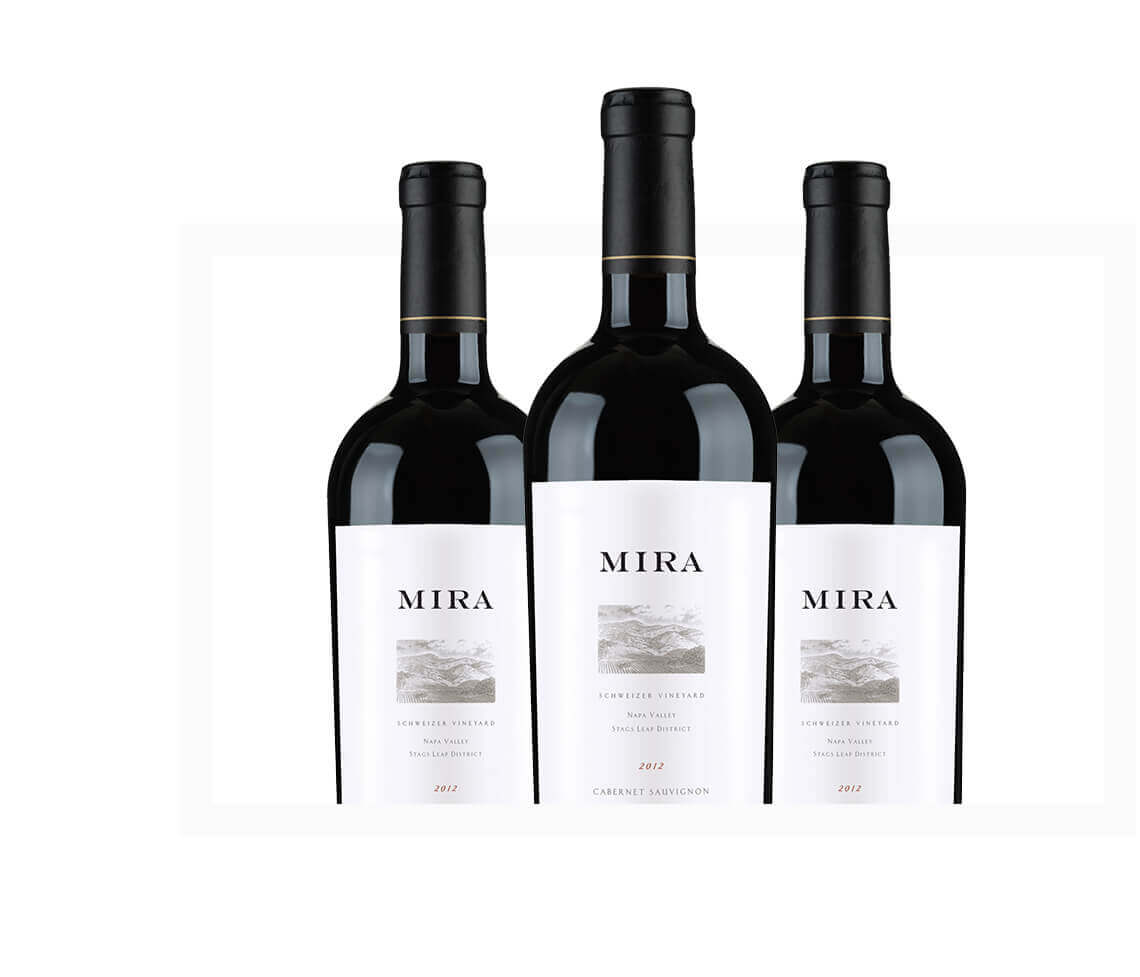 Limited Library Release
2012 Mira Cabernet Sauvignon Schweizer Vineyard
Described as "a Napa Valley masterpiece" and "a beautiful expression of the Stags Leap District," our 2012 Cabernet Sauvignon Schweizer Vineyard is the only wine ever to bear the prestigious Schweizer name. This "elegant, balanced, delicious" wine is the perfect addition to your wine collection. Only 50 / 200 cases remain.
Branded wooden box set of 6 bottles:
$3,660
ACQUIRE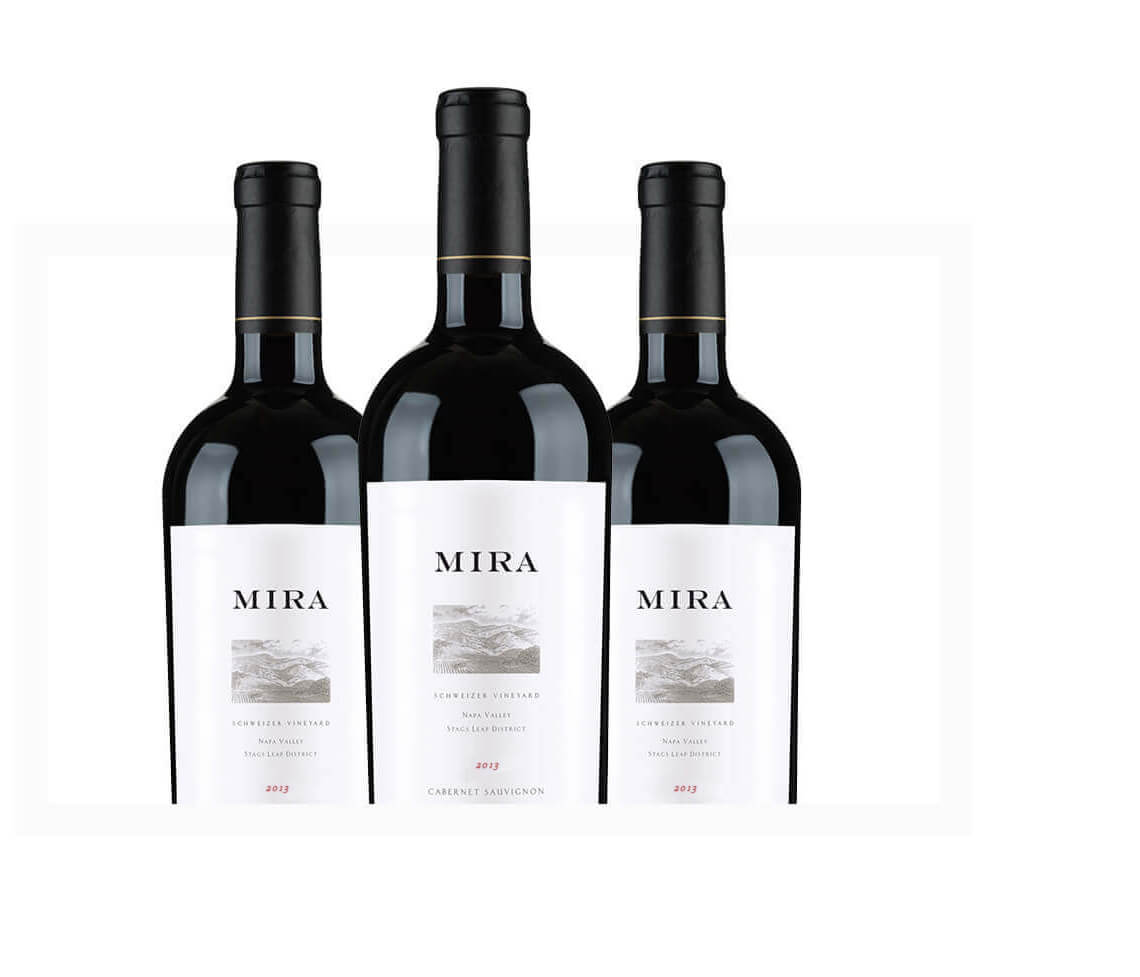 Limited Library Release
2013 Mira Cabernet Sauvignon Schweizer Vineyard
Black in color, our Schweizer Vineyard Cabernet Sauvignon
commands your palate with its plush, picturesque and magnificent texture. Crushed myrtle berry and licorice notes entice into a hematite core that segues into a precise, chiseled and incessant finish. A wine that forces the objectivity of science to surrender to sensory euphoria. Only 100 cases remain.
Branded wooden box set of 6 bottles:
$2,262
ACQUIRE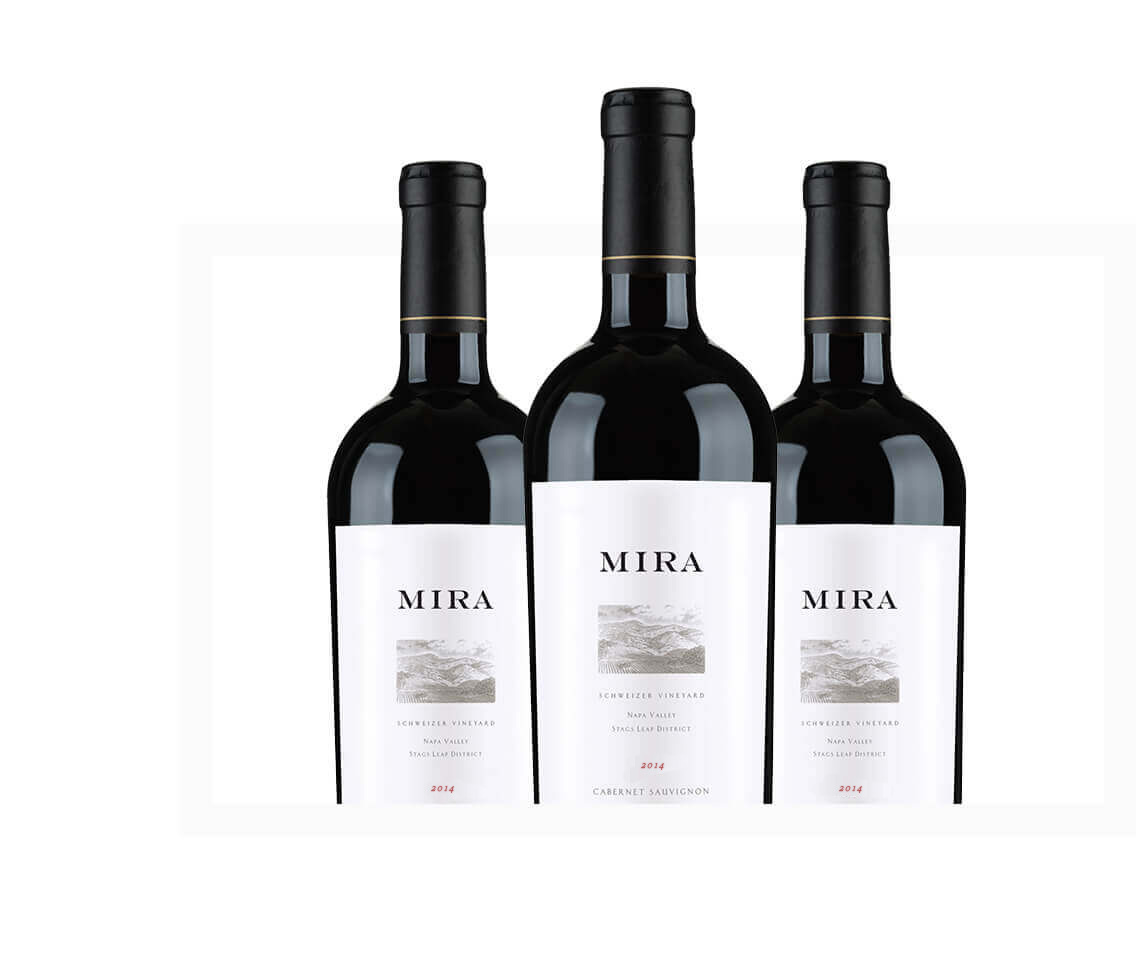 Limited Library Release
2014 Mira Cabernet Sauvignon Schweizer Vineyard
Layers of seductive red fruit aromas interwoven with hints of minerality attract the nose. The initial contact with the palate hints at a brightness that is sure to allow the wine to gain complexity over many years while the middle is loaded with red fruit, supple tannin and just a hint of French oak. The finale is grandiose with a sexy perfume filled return and a long finish that begs for another taste. This wine is non fined, non filtered. Expect some sediment from our pure approach to winemaking. This wine can be cellared for years to come.
Branded wooden box set of 3 bottles:
$1,131
ACQUIRE
Mira Locations
Southern Roots, Napa Grapes
Napa, CA
Home of our boutique, limited production winery.