Mira Cabernet Sauvignon
Schweizer Vineyard 2012
On May 24, 2016, Mira Winery marked the 40th anniversary of the legendary Judgment of Paris at our Tasting Room in Charleston, SC, with a blind tasting of eight highly rated top wines from Napa Valley and Bordeaux. The wines included two previously 100-point rated wines, according to Robert Parker of the Wine Advocate, from both Napa Valley and Bordeaux. Eleven judges from across the country gathered to compare these top wines and consider the stylistic evolution of the two regions since the Paris tasting.
"Mira's…Cabernet Sauvignon actually marks the first time the Schweizer family has ever allowed a winery to designate Schweizer Vineyard label. They picked a good one to start. Against all odds, Mira Winery's entry in the blind tasting [at the Judgment of Charleston 2016] finished third, behind only the Pétrus 2012 (a Merlot) and the 100-point Château Haut-Brion."
— THE DAILY CALLER
Mira's entry was its Cabernet Sauvignon Schweizer 2012, a limited selection, small production single varietal wine grown in one of the oldest and most exclusive vineyards in the Napa Valley. In the blind tasting with top Master Sommeliers, Advanced Sommeliers and wine experts from around the country, Mira Cabernet Sauvignon Schweizer Vineyard bested some of the greatest wines from the Napa Valley including Screaming Eagle, Schrader To Kalon and Shafer Hillside Select.
Own a Piece of History
ACQUIRE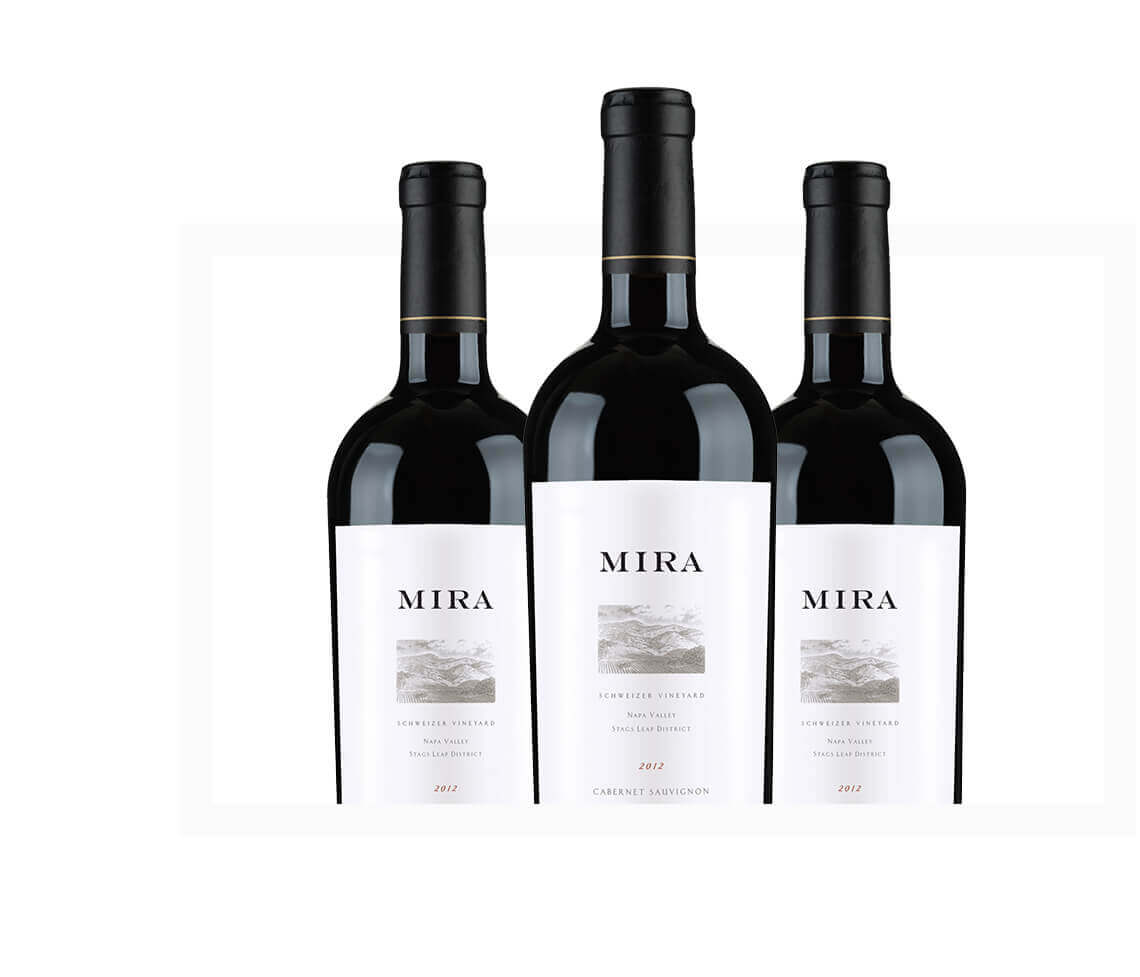 Limited Library Release
2012 Mira Cabernet Sauvignon Schweizer Vineyard
Described as "a Napa Valley masterpiece" and "a beautiful expression of the Stags Leap District," our 2012 Cabernet Sauvignon Schweizer Vineyard is the only wine ever to bear the prestigious Schweizer name. This "elegant, balanced, delicious" wine is the perfect addition to your wine collection. Only 50 / 200 cases remain.
Branded wooden box set of 6 bottles:
$2,250
ACQUIRE
Mira Locations
Southern Roots, Napa Grapes
Napa, CA
Home of our boutique, limited production winery.