These classic flavors of fall pair brilliantly with the layered nuance of the Mira Cabernet Sauvignon Stags Leap District 2014. Once a somewhat exotic ingredient, smoked maple syrup can now be found in many gourmet markets, as more and more producers have begun to produce their own versions. It makes a wonderful addition to your pantry, particularly in the colder seasons, as bright and complex way to finish many dishes.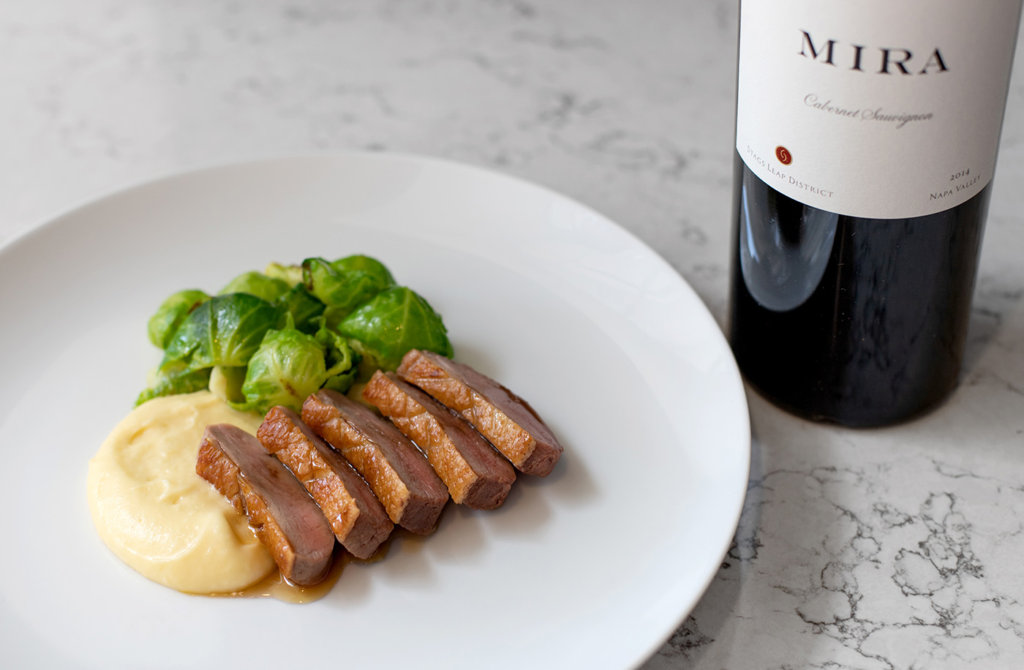 Crispy Skin Duck Breast
with Parsnip Purée, Brussels Sprouts, and Smoked Maple Syrup
paired with Mira Cabernet Sauvignon Stags Leap District 2014
Serves 4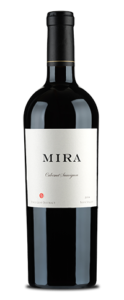 4 5-ounce duck breasts
2 ounces smoked maple syrup
Kosher salt
Using a sharp knife, lightly score a crosshatch pattern onto the skin side of the duck breast. Season the breasts with salt and place fat side down into a large, cold sauté pan. Place the pan over low heat until the fat begins to render from the breasts and bubble in the pan. Continue to cook over low to medium heat, adjusting as necessary, until most of the fat has rendered out and the skin is a golden brown. Flip the breasts and increase the heat to medium. Cook for another 1-2 minutes for medium rare, or until a thermometer inserted into the thickest part of the breast registers 130 F. Remove from the pan, tent with aluminum foil and allow to rest before slicing. When ready to serve, slice the breast into approximately 1/4-inch slices across the grain and transfer to the plate, drizzling with a bit of smoked maple syrup.
Brussels Sprouts
1 pound brussels sprouts
Olive oil
Kosher salt
Bring a large pot of water to a boil then season generously with salt and set up a large bowl of ice water. Trim the ends of the brussels sprouts and separate the leaves. Blanch the brussels sprouts leaves in the boiling water for 1 minute, then use a slotted spoon or spider to transfer the leaves to the bowl of ice water. When the leaves are cool, drain them from the water and transfer to paper towels, blotting lightly to dry. Heat a large sauté pan over medium-high heat and then add the olive oil. Add the leaves, working in batches if necessary to avoid overcrowding the pan, and cook until lightly browned, approximately 5 minutes. Season with salt to taste and keep warm until ready to serve.
Parsnip Purée
1/2 pound parsnips
1 garlic clove
1/2 cup heavy cream
1 tablespoon unsalted butter
Kosher salt
Peel and thinly slice the parsnips and garlic. In a heavy bottomed saucepan, combine the cream, garlic, parsnips, and butter and bring to a simmer. Cover and cook until the parsnips are very soft, approximately 10 to 15 minutes. Remove the cover and allow the liquid to reduce by about half. Set aside to cool slightly, then puree in a blender until smooth.