Heirloom tomatoes are perhaps one of the most sought after summer treats. Sweet, juicy and go with just about any summer meal, we are loving our heirloom tomatoes here in Yountville. This is one of our favorite appetizers for any summer get-together, our Heirloom Tomato Bruschetta. It pairs perfectly with our 2018 Sauvignon Blanc!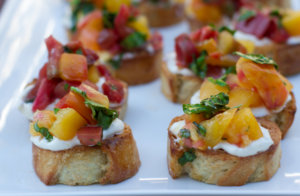 Heirloom Tomato Bruschetta
Makes 48
Ingredients:
4 pounds heirloom tomatoes, coarsely chopped
½ cup extra virgin olive oil
2 garlic cloves, minced
1 cup fresh basil leaves, rough chopped
Coarse salt and freshly ground pepper
2 baguettes, thinly sliced
1 cup crème fraiche
1 head of roasted garlic, mashed and chopped
1 teaspoon lemon zest
Directions:
1. Preheat the oven to 400 degrees. Slice off the head of the garlic and sprinkle with a little olive oil and salt. Wrap and cover with tinfoil and roast in the oven, cut side up, for 45 minutes. Remove from foil and let cool. Squeeze the cloves out, mash and chop. Set aside.
2. Lower the oven temperature to 350 degrees. Slice the baguettes into 24 pieces and lightly brush with olive oil. Bake in the oven for 10 to 12 minutes or until lightly toasted. Remove from oven and set aside.
3. Meanwhile, coarsely chop the heirloom tomatoes and add to a large mixing bowl. Add olive oil, minced garlic, fresh basil, salt and pepper and mix until well combined.
4. In a small mixing bowl, add crème fraiche, mashed roasted garlic and lemon zest. Mix until well combined and sprinkle with salt and pepper.
5. Spread a small amount of roasted garlic crème fraiche onto each toasted baguette piece. Using a slotted spoon (or clean hands!) top each piece with heirloom tomato mixture.