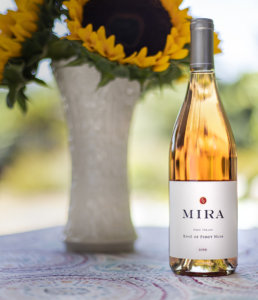 Rosé can sometimes be mistaken for an aperitif more at home on the patio than at the table, but well-produce dry rosé is in fact a food pairing powerhouse. It matches beautifully with a wide range of dishes and offers qualities that appeal to diverse palates, making it ideal for easy entertaining, particularly in the warmer months.
Served chilled, Rosé can be crisp and refreshing with a balanced acidity that allows it to hold its own alongside many different cuisines. Rosé wines with more body and depth can progress deeper into the meal, offering an opportunity to appreciate their evolution as they warm slightly in the glass. The Mira Rosé of Pinot Noir Napa Valley 2019 showcases all these qualities, particularly in its bright fruit nose and creamy, complex flavor.
Like other lighter wine styles, Rosé often plays well at the start of the meal where it can be served alongside more delicate dishes such as salads and cold fish. It also makes a wonderful bridge to the table, served at a standing reception alongside charcuterie and soft cheeses but then carried through the first or second course once seated. Depending on the length and type of a menu, a full-bodied Rosé can be served straight through into the main dishes particularly if they feature seafood or lighter poultry.
With every pairing, the proof is on the palate, so to speak, so always keep an open mind and experiment with new combinations that inspire you. And with that in mind, consider pushing the boundaries of what might seem possible when pairing with the Mira Rosé of Pinot Noir Napa Valley 2019. You are bound to discover new ways to appreciate all the wonderful qualities of this special wine.
Recipes to Pair with the
Mira Rosé of Pinot Noir Napa Valley 2019
photo credit: Aubrie Pick

photo credit: Greg DuPree

Shrimp Toast
courtesy of Food & Wine

In this Night + Market dish by Kris Yenbamroong, blending fresh shrimp with pork fat creates a juicy, tender paste to spread on springy milk bread. Pork fat, from the back or belly (not rendered, like lard), can be easily chopped after freezing until quite firm, about 20 minutes.

Burst Cherry Tomatoes and Pancetta
courtesy of Food & Wine

Best New Chef Michael Gallina of Vicia in St. Louis has a way with vegetables, and this time of year tomatoes are his muse. His Burst Cherry Tomatoes and Pancetta is a simple sauté that brings everything to the table: sweet acidity from the tomatoes; a salty, savory chew from the pancetta; and aromatics from the garlic and onion. The pancetta seasons the mixture, which begs to be served over ricotta toast. You can also try the combo tossed with pasta.

photo credit: Emma Fishman

photo credit: Michael Graydon + Nikole Herriott
Chicken Breast with Peas and Croutons
courtesy of Bon AppétitRecipe developer Ali Slagle was a self-proclaimed never-breaster who only tolerated chicken breasts when they were breaded and fried. Then she developed this method for crackly-skinned, juicy roast breasts that has quickly earned a spot in her regular rotation. Preheating the skillet before adding the chicken jump-starts the browning process; the bones provide a buffer that protects the meat from drying out as the skin gets golden.
Cold Roast Salmon
with Smashed Green Bean Salad
courtesy of Bon AppétitRoasting salmon low and slow yields fish that stays moist and tender even when served chilled. A raw green bean salad is a perfect crunchy accompaniment; our trick for smashing and marinating the beans softens their texture and flavors them inside and out.