The Mira Jimmy D's Red Blend Napa Valley 2016 features a fantastic blend of Syrah, Cabernet Sauvignon, and Petit Verdot that is incredibly versatile at the table and delightful with so many ingredients and cuisines. Here we've paired the wine with a celebration of some of our favorite spring ingredients: Lamb, Onions, Peas, and New Potatoes. These bold and fresh flavors find great affinity with the Jimmy D's vibrant fruit character and are nicely balanced by the wine's soft structure and spicy finish. Enjoy this pairing as a wonderful prelude to the summer produce bounty waiting just around the corner.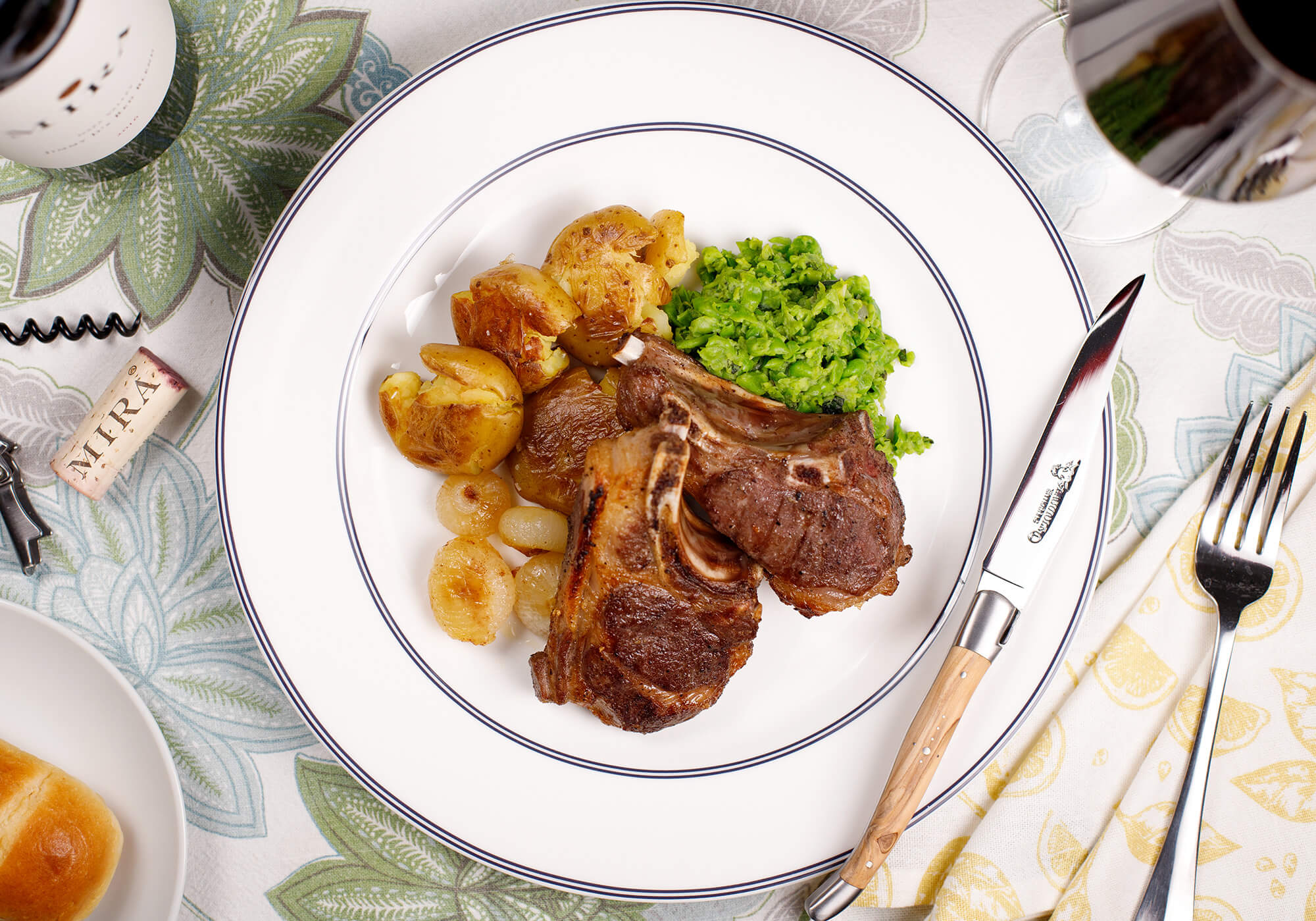 Sous Vide Lamb Chops
with Roasted Cipollini Onions, Minty Mashed Peas,
and Smashed New Potatoes
paired with
Mira Jimmy D's Red Blend Napa Valley 2016
Serves 2
4 lamb chops
Kosher salt
Black pepper
Pat the lamb chops dry and season generously with salt and fresh cracked pepper. Vacuum seal the chops in 1 large bag or 2 smaller bags so that they are not pressed into one another. Prepare a water bath. Set the temperature on an immersion circulator to 135˚F for medium-rare chops. You can also use 142˚F for medium or 150˚F for medium-well. Cook for 2-3 hours, then remove from the water and transfer to an ice bath until chilled completely. The chops can be held for up to three days before cooking.
When ready to serve, remove the chops from their bags and pat dry. Preheat a broiler to high. Place a rack onto a foil-lined sheet pan and arrange the chops so that they are spaced out across the rack. Place the pan under the broiler and brown the chops, turning them every 30 seconds or so with a pair of tongs to prevent burning. The whole process should take no more than 2-3 minutes, by which time the chops will be heated through.
Roasted Cipollini Onions
1 pound Cipollini onions
2 tablespoons unsalted butter
Kosher salt
Preheat the oven to 325˚F. Peels the onions and trim away any remaining root. Melt the butter on the stove in a pan large enough to hold all the onions. Add them, toss to coat in butter, and season with salt. Transfer the pan to the oven and roast, stirring periodically, until tender and browned.
Minty Mashed Peas
2 cups English peas, shelled
1 tablespoon onion, finely diced
2 tablespoons unsalted butter
1/2 cup fresh mint leaves, stems removed
Kosher salt
In a large pot of well-salted boiling water, cook the peas until tender. In the meantime, melt the butter in a sauté pan over medium-low heat and cook the onions until tender. When the peas are fully cooked, drain and add to the sauté pan along with the mint leaves. Toss everything to combine. Remove from the heat and mash the peas in the pan with a fork or potato masher, or for a smoother consistency transfer to a food processor and pulse until just blended. Adjust seasoning with salt and serve warm.
Smashed New Potatoes
1 pound new potatoes
2 tablespoons extra-virgin olive oil
Kosher salt
Scrub the potatoes then place in a pot deep enough to cover them with at least an inch of water. Place the pot on the stove over medium heat and bring to a simmer, adjusting the heat to prevent the pot from boiling. Once simmering, add a generous amount of salt and cook until the potatoes are fully tender when pierced with the end of a pairing knife. Drain and allow to steam off in a colander until cool enough to handle. Taste the potatoes to determine if you'll want to add salt later. With the bottom of a small pot or heavy glass, press each potato on a cutting board until they burst and flatten. Try to keep each potato together as one piece. Heat the olive oil in a sauté pan over medium-high heat, then add the potatoes and cook until browned and crisp, approximately 2-3 minutes per side. Season with salt if needed and serve warm.