Delicious Appetizers to try at Yountville Restaurants
Napa Valley's quaint town of Yountville is known for its world-renowned restaurants, wineries and hotels. While there are too many restaurants to experience in one trip (you will just have to visit again!), we have narrowed down some of the best appetizers you must try in Yountville.
Bottega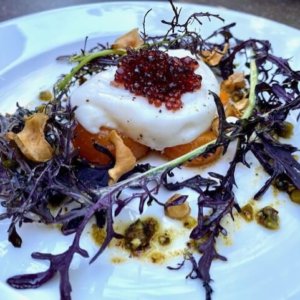 Bottega offers an unmistakably Italian sense of style in a stunning Napa Valley setting. Dine outside on our expansive patio, complete with two stone fireplaces to warm you on the coolest Napa nights. Inside, you'll find a warm, rustic setting adorned with Venetian plaster, Murano glass chandeliers, soft leather chairs, and ample tables — the perfect atmosphere for a meal and an experience to remember.
We recommend the following two appetizers at Bottega:
Creamy Gioia Burrata with rosemary scented tangerines, pinecone syrup pistachios, pomegranate "caviar", crispy sunchokes & red mustard frill. The perfect appetizer to share that pairs with well a glass of bubbles or your favorite cocktail!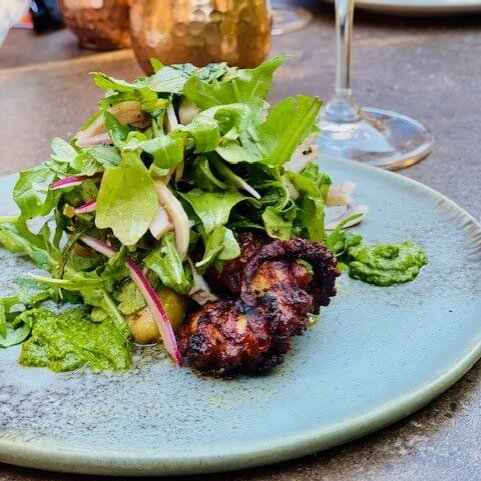 Wood grilled octopus over smoky paprika braised potatoes, salsa verde, arugula & red onions. Not only is this octopus grilled to perfection, the smoky potatoes and salsa verde add another dimension to this dish. We recommend enjoying this appetizer with a glass of Rosé of Pinot Noir.
Bottega Napa Valley, V Marketplace, 6525 Washington Street, Yountville, CA 94599
botteganapavalley.com
Bistro Jeanty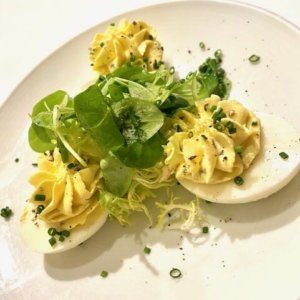 At Bistro Jeanty, you will escape to a local neighborhood French restaurant. In everyday French life, it is the bistro that is woven into the daily pattern of meals and celebration, the neighborhood restaurant where they know your name, greet you warmly, and serve you delicious foods that change with the seasons. This family-run restaurant is nestled in the heart of Yountville. Enjoy a taste of classic French cuisine and gracious hospitality, led by chef Philippe Jeanty. Our favorite appetizer here is the Eufs mimosa truffés: deviled eggs with black truffle and mâché. Creamy, tasty with just the right amount of truffle.
Bistro Jeanty, 6510 Washington Street, Yountville, CA 94599 bistrojeanty.com
R+D Kitchen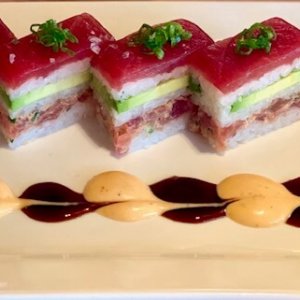 Nestled in the northern part of the town of Yountville, R+D Kitchen brings sophisticated and fresh cuisine to a smart and convivial crowd. While this restaurant offers a wide range of delicious appetizers, pizzas and other featured items, we love the sushi section on the menu! Our go-to sushi to order is the Spicy Tuna 'Osaka Style': Sashimi tuna stacked with avocado, spicy tuna mix & rice. It's fresh, flavorful and the perfect bite to enjoy on their patio with a crisp glass of Sauvignon Blanc.
R+D Kitchen Yountville, 6795 Washington Street, Yountville, California 94599
R+DKitchen.com
Bouchon Bistro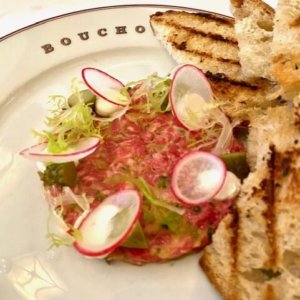 In October 1998, Chef Thomas Keller introduced Bouchon, offering authentic French bistro fare with Keller's unfailing attention to detail in both ingredients and presentation. The décor inside will take you to Paris in your mind but the real French feel comes with each bite of the food. Bouchon's seasonal menu and raw bar selections change throughout the year with the seasons but they do have staple dishes year-round such as our appetizer pick for this restaurant, the Tartare de Boeuf beef tartare with radishes, cornichons, frisée & horseradish crème fraîche, served with grilled pain de campagne. Enjoy this appetizer with a glass of Rosé Champagne!
Bouchon Bistro Yountville, 6534 Washington Street, Yountville, California 94599
thomaskeller.com/bouchonyountville.com
Lucy Restaurant & Bar at Bardessono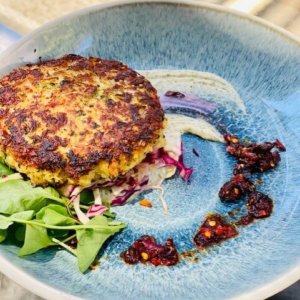 Lucy Restaurant & Bar is in the Bardessono Hotel and offers seasonal dishes fresh from her garden and healthy selections from within and around Napa Valley. Always original, Lucy's cuisine is presented, cocktails are art, and wine is vivid. Their culinary philosophy blends modern aesthetic with eco-spirit. At Lucy, everything is truly "field-to-fork" fare — breakfast, lunch, or dinner.
We love the dungeness crab cake with Lucy Garden Kohlrabi Slaw Toasted Nori Mayo & Chili Crisp. It pairs perfectly with a wonderfully chilled glass of Chardonnay.
Lucy Restaurant & Bar, 6526 Yount Street, Yountville, CA 94599
Bardessono.com
Other honorable appetizer mentions at these restaurants:
Shaved Brussels sprouts with whole Meyer lemon dressing, Marcona almonds, sieved egg &
Pecorino Romano at Bottega
Salmon tartare with sauce verte & potato chips at Bistro Jeanty
Oeufs Mimosa: Deviled Eggs at Bouchon Bistro
Pâté de Campagne country style pâté with watercress, cornichons & radishes at Bouchon Bistro
Dip Duo with jalapeño queso and guacamole with hand-cut tortilla chips
at R+D Kitchen
Miso Soup: French Press Dashi, Wakame Artisinal Miso, Wild Mushrooms
& Golden Shallots at Lucy Restaurant & Bar at Bardessono