The 2020 Napa Valley grape harvest
reaches a key milestone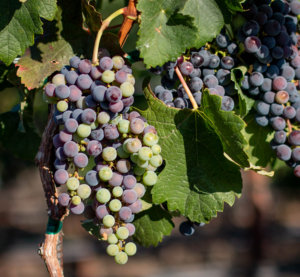 The 2020 harvest has reached an exciting milestone as we begin to observe veraison taking place out in the vineyards. This is the turning point in the season when the grapes on the vines perform their miraculous transition from growing to ripening and begin to develop and display their true character.
Acidity decreases and sugar increases, starting the process that will culminate in harvest when these two essential elements reach their ideal balance. Chlorophyll breaks down into the compounds that give both red and white grape varietals their distinctive colors bringing flashes of color to the vineyard. Following in the footsteps of their wild ancestors, the grapes begin to produce flavor and aroma compounds to attract animals and ensure dispersal of their seeds. Fortunately for us it is these same compounds that will give the wines produced from each block their unique finished qualities.
Like every step in the annual cycle of viticulture, veraison is another opportunity to work with our grapegrowers to evaluate conditions in the vineyard and the progress of our grapes so that we can make any necessary adjustments to help achieve the perfect expression of each block. Thus far our two blocks of Cabernet Sauvignon at Schweizer Vineyard in Stags Leap are showing the most progress, but our blocks at Hyde Vineyard in Carneros and our estate vineyards are close behind.
This year is particularly exciting in our Yountville estate vineyards as we anticipate our first true harvest here at the property. Already there is reason to be optimistic about both the quantity and quality of this year's estate fruit. As we have our first opportunities to produce wine from our small blocks of Cabernet Franc, Petite Verdot, Merlot, Cabernet Sauvignon, Sauvignon Blanc, and Sauvignon Gris we will have the chance to confirm our sense that our piece of the Yountville AVA is truly an exceptional place for growing grapes.